What is the Control Desk?
The epoq Control Desk is a reporting, analytics and management tool for the epoq services: Search – intelligent search, Inspire – individual recommendations, Connect – individualized emails and Advise – guided selling and Stream - personalized shopping area. It is available for free for all epoq customers and allows the configuration and control of integrated epoq services within your online shop. It is possible to add several users for one company.
Which features does the Control Desk offer?
The Control Desk is ideal for a quantitative performance control of the epoq services integrated in the shop. It also offers qualitative analysis tools from which insights from data can be derived and settings can be adjusted directly with the help of the optimisation features. There are three central application scenarios: Evaluation of quantitative performance indicators (KPI), analysis of qualitative performance characteristics and setting individual service configurations.
How is the Control Desk structured?
After logging into the Control Desk, you will see the Dashboard. There you get an overview of the most important key figures of the booked services of the selected tenant. For more details, see Dashboard.
On the left side, you will find the menu. At the top you can select your tenant. 
A tenant usually corresponds to a domain name on which epoq services are used. There is one tenant per shop language, e.g. demoshop-de / demoshop-en / demoshop-fr. Your company can have several tenants.
In the menu, you can access the features for each booked service. Services that are not booked are grayed out and you can only access a "quick start" page with some general information about the service.
Underneath the service section you have the data management section. Here you can enrich the data of the product catalog by creating new links between product fields. These features can be applied to each of your tenants.
In the settings section you can access the User Settings and the services Tab, where you will find useful information , such as a feature list and a project flow of all epoq services.
At the bottom of the menu you will find your personal Account Settings.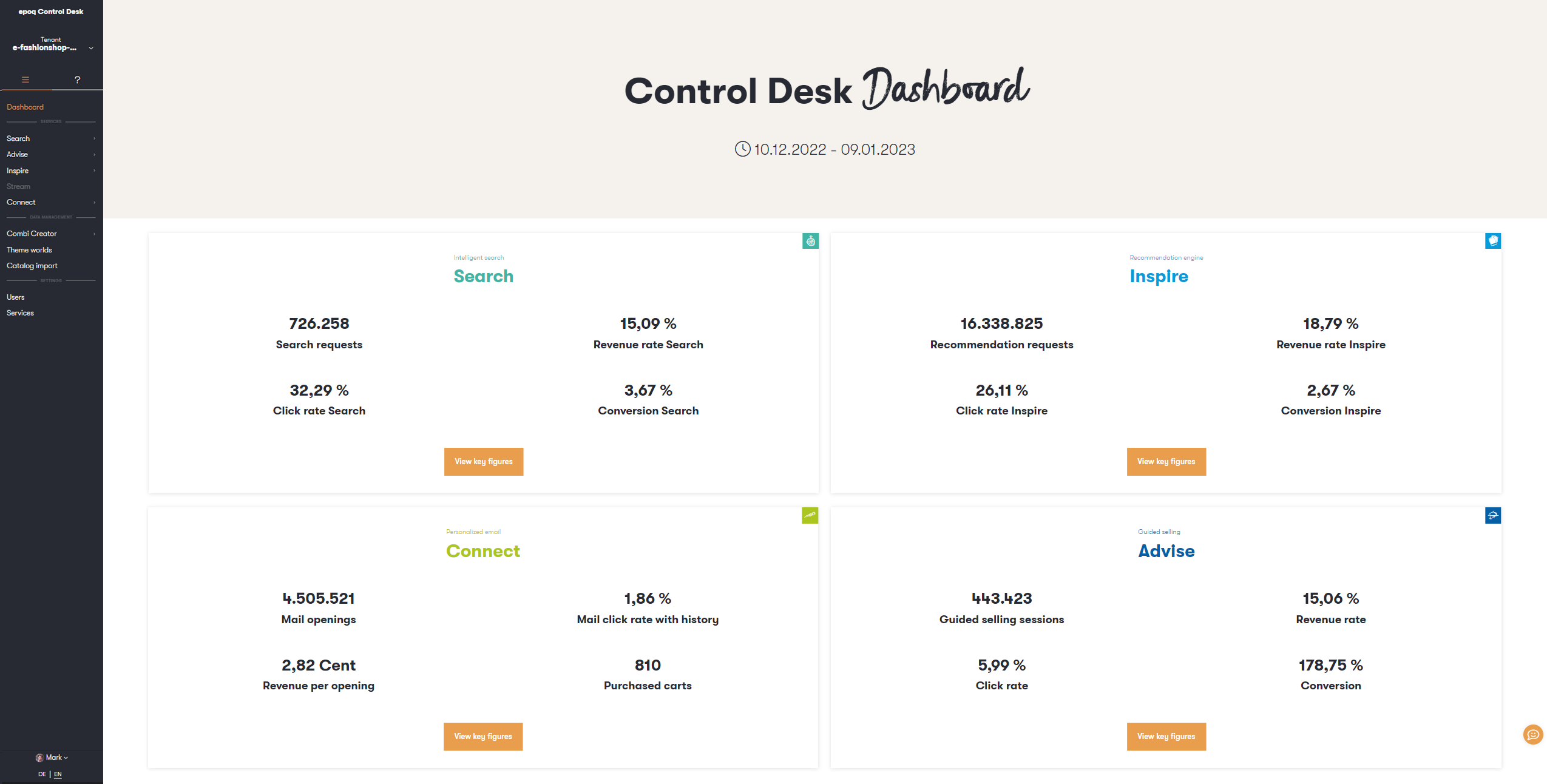 Is the Control Desk available in other languages?
The Control Desk is available in German and English. At the bottom of the menu you can change the language.
Do I need special previous knowledge?
You don't need any specific knowledge for the Control Desk. The e-commerce knowledge of your daily work should be sufficient in order to understand and evaluate reports or qualitative analysis. A couple of detailed notes and examples should help you out within the management settings.
Are there trainings for the Control Desk?
Immediately after the integration of an epoq service in your online shop you will get an onboarding training by our Customer Success Team. Within the training you will get to know the main features of the Control Desk as well as some useful hints and details for its usage.