What is the feature about?
With the help of No Result Management you can create a custom No Result page for specific search terms.
You can
display a banner,
store a description and
play out the search results of an alternative search term.
You can find the No Result Management in the Control Desk under Services > Search > Features.
When should I create a no result page?
There are search queries where the products searched for do not (yet) exist in the shop. This is manifested either by no results or by incorrect results caused by similar hits. If a store does not carry a "kindle", you do not want to get a "kinderlernwürfel" displayed. For the following cases, for example, you can create a no result page:
Brand is not (yet) listed
specific product is not listed
category/topic is not (yet) listed
For temporarily sold out products we do not recommend a no result page, because the search query becomes a zero hit. This means that even after the product is available again, it will not be found.
Individual Design
If you activate 'Design page individually' in the edit mode, you can e.g. display an image banner, text and the search results of an alternative search term.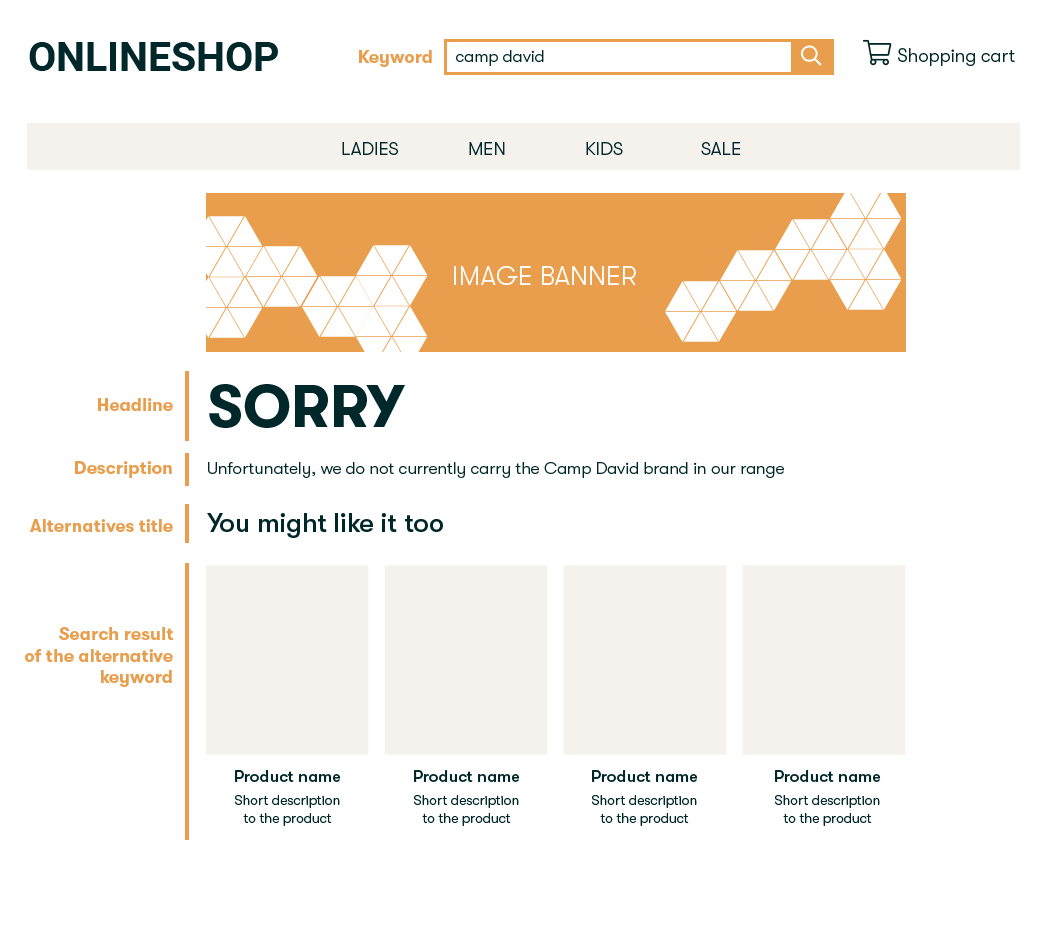 Standard Design
If you do not make any settings in the edit mode, you will automatically receive a message that the search has not found any suitable hits.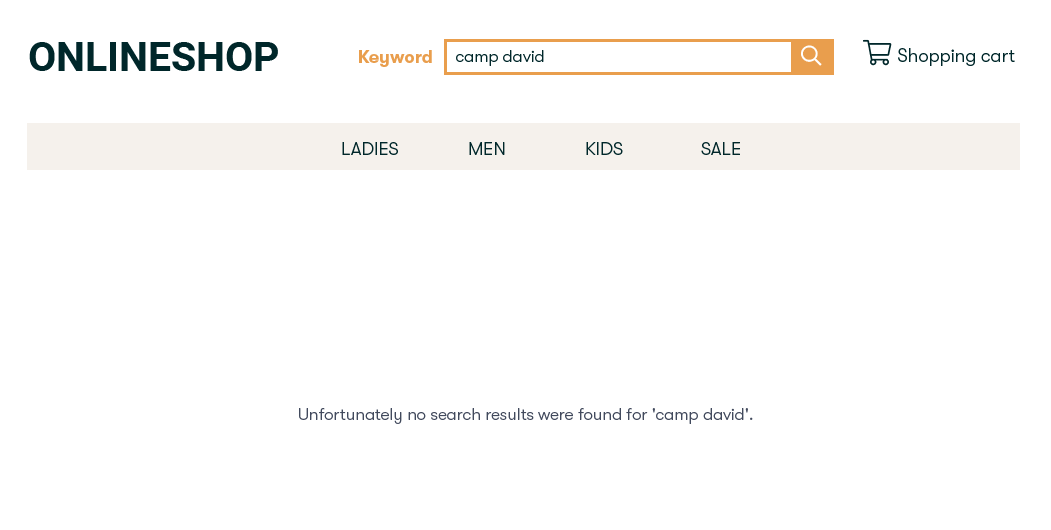 Of course, this standard design can also be customized: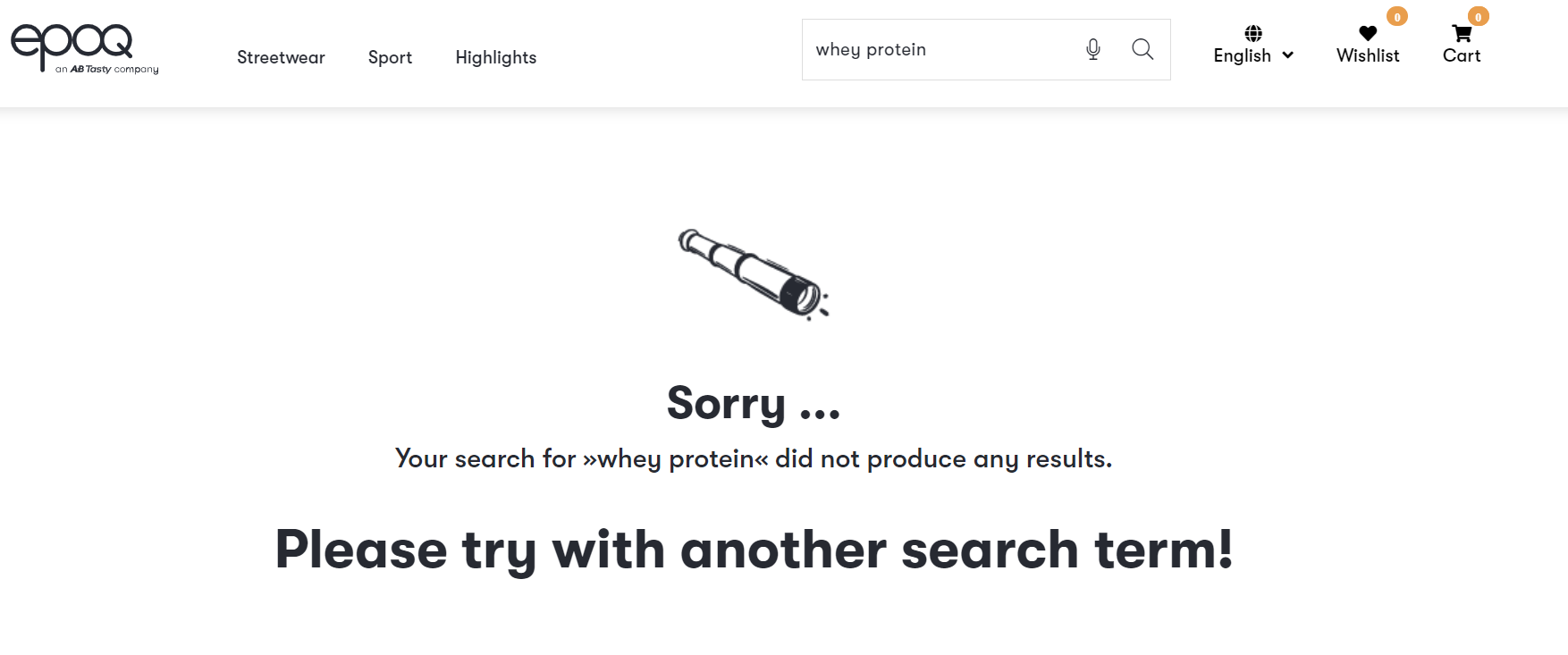 Alternative Search
If there is no search term with which the alternative products can be queried, you can enter any search term and create a Theme world with the same name, which will be searched for automatically. This means that the Theme world is displayed in the search result of the alternative search term.
In addition, you can use the Result management for the original search term (which you also entered as a trigger for the no result entry) to influence the order of the articles in the alternative search result. The changes will then ONLY take effect for the alternative search.
This is not an individualization. The displayed products/hints are the same for every shop visitor. His history, previous click behavior, etc. are not taken into account.
Examples: No result pages with alternative search result
Unfortunately, we do not have any tents in our range. How about a new backpack for your next outdoor trip?

Unfortunately, we currently do not have any cocktail shakers in our range, but we will be happy to inform you as soon as they are available. Take a look at our new cocktail glasses.

Unfortunately we do not have the 'Prada' brand in our range. You might also like our other luxury brands.

The Apple iPhone 20 will not appear until 08/20/2024. How about the right case?
How do I manage the feature in the Control Desk?
You can find the feature No Result Management in the Control Desk under Services > Search > Features.
After you have created an entry, it will appear in the overview table.

There you can activate/deactivate, configure, edit or delete an entry.
The symbols used in the Control Desk are explained here.
Examples of Use
You can find some general Use Cases here.
How to create a custom no result page
In an outdoor online shop, many shop visitors search for snorkel items. Unfortunately, there are currently no snorkel items in the range.
Create a no result entry for the search term "snorkeling" and select the individual design in the editor. Then add a banner, a description and an alternative search term, e.g. "Stand Up Paddling".