In Control Desk > Search > Configuration you can see the fault tolerance of your search. This determines how generously your epoq search responds to typos of users.
You can view these settings in view mode. For changes please contact our Customer Service Team.
Fault tolerance
The fault tolerance (absolute or relative) determines which products are displayed in the search result. A score is calculated for each catalog entry found. This takes into account how well the individual words of an entry match the entered search term, how many words from the search term were found in the entry and what weighting the fields have in which the search terms were found. The value of this score is between 0.0 and 1.0 for each search hit found. A value of 0 means that all hits are displayed that have at least one word that roughly matches the entered search term. A value of 1 means that only those hits are displayed in which all search terms were found exactly in fields with maximum weighting.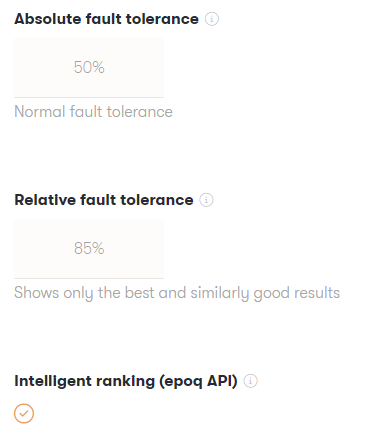 The search result is still dependent on many other factors, eg. personalization, Result Management entries, more ranking settings.
Example: If the search term is "jeans" and a pair of men's jeans has a score of 1, but the shop visitor should only be shown women's products as a result of the personalization, the men's jeans may be listed further down or not displayed at all.
Absolute fault tolerance
i.e., if you set the absolute fault tolerance range to 20%, all search results will be displayed with a score of at least 0.2 (strong fault tolerance). An absolute error tolerance range of 100% shows only the search results with a score of 1. The epoq team sets in consultation the optimal value for your shop.
Relative fault tolerance
The relative error tolerance indicates how high the score of an entry may be compared to the best match. i.e., if the relative error tolerance range is set to 70%, only the search results whose score is at least 70% of the best search score are displayed.
Intelligent ranking (epoq API)
The setting shows you whether the collected epoq API tracking data will be used to improve the search results ranking.